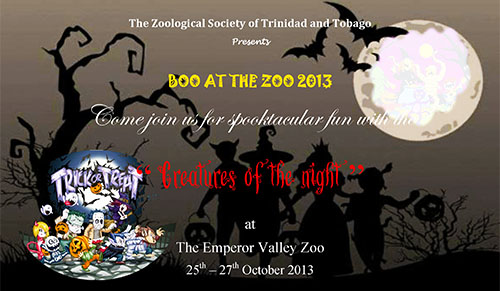 Guests of all ages who are not afraid of the creatures of the night are invited to enjoy the Emperor Valley Zoo's Halloween celebrations from 25th October – 27th October 2013.
Boo at the Zoo 2013 - "Creatures of the Night" runs during the regular Zoo opening hours from 9:00am to 6:00 pm and all are invited to come dressed in their favourite night time Creature of the Night character.  (Traditional, local, mythical or
The Manatee Conservation Trust and the Zoological Society of Trinidad at the Emperor Valley Zoo will host their Haunted House which will be based at the" A-scarium".  We ask that those who are afraid of the creepy and scary critters please proceed with caution.
So looking to seeing all you ghosts and goblins, mummies and zombies, soucouyants and papa bois, werewolves, owls and bats and your companions for "trick-o-treat"!!!
Regular admissions fees apply.