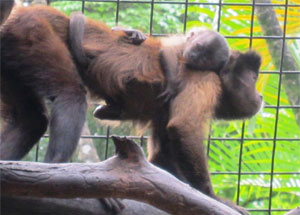 Last month the Emperor Valley Zoo welcomed its newest addition, a baby tufted capuchin (Cebus apella). This adorable little monkey created history as this is the first birth for this species at the zoo!
Zoo visitors can view the new baby holding onto its mother's back as she tenderly cares for it. The baby measures about 12 inches in length from head to tail and exhibits a beautiful light brown and black coat.
Tufted capuchins, also called brown capuchins can be found in forests of South America and Trinidad. This species is omnivorous, feeding mainly on fruits, invertebrates, baby birds and lizards.