ZOO TO YOU
Primary Schools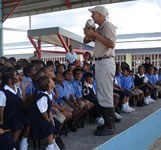 The Rotary Club of Trinidad & Tobago is a non-profit organization that addresses the needs of the underprivileged in society. The Club has partnered with the EVZ to bring animal education and awareness to primary schools.
Many rural schools are benefiting from this venture as it affords thousands of children the opportunity to interact with these animals in a unique and memorable way, under safe, controlled conditions. An educational talk is accompanied by the opportunity to view and touch some of the animals.
Zoo To You programs are conducted every Friday by your Uncles and Aunties from the zoo and the Rotary Club of San Juan.
To register your primary school, call the ZSTT office at: (868) 622-5344
For more information, visit us on Facebook! Simply search for 'Zoo To You' using the 'Groups' application. Feel free to leave questions or comments on the Wall. We'll be glad to hear from you!
Personal Events

Can't come to the Zoo? We'll gladly come to you! Call us now to make bookings for Birthday Parties, Exhibitions, Dinner Parties, Functions and much more.
A modest assortment of conditioned animals, including an ocelot, a porcupine, snakes, guinea pigs, tortoises, turtles and macaws, can be rented for up to three hours at your special event.
Prices may vary according to requests.
Bookings should be made at least one week in advance by calling: (868) 622-5344.
EVENTS AT ZOO
Would you like to enjoy your own personal space and book an event at the zoo? We welcome birthday parties and functions. We will cater an environment to your needs, if you wish, while you enjoy the sights and sounds of the zoo. Conditioned animals are available for bookings. Prices will vary based on the request.

For bookings contact: (868) 622-5344.