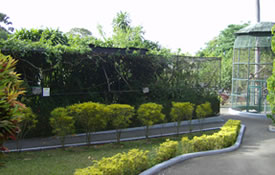 The Emperor Valley Zoo (EVZ) is situated adjacent to the Botanical Gardens, Port of Spain, Trinidad. The exhibits are spread over a 7.2 acreage, with much of the flora of the original site retained, thus enhancing the overall landscape. Enclosures, pathways, fences and buildings have been incorporated into the natural topography creating a wilderness atmosphere and a feeling of relaxation for the many visitors who come each year.

Named for the Morpho or Emperor Butterfly (Morpho peleides insularis) that once used to frequent this natural valley, the Emperor Valley Zoo came into existence when the Zoological Society of Trinidad and Tobago Inc. was founded on April 23, 1947.
The Emperor Valley Zoo on the 8th November 1952 opened its gates to the public, exhibiting a modest collection of local animals drawn from private collections and interested members of the newly founded Society.

This emphasis on local fauna has continued to this day. Although the Emperor Valley Zoo showcases some exotic species, visitors can see many of the mammals, birds, reptiles and fish that are found in Trinidad and Tobago and the adjacent South American continent.