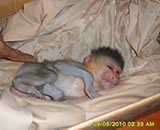 On Thursday, 9th September 2010, the Zoo welcomed a male baby mandrill into its collection, born to parents "Mary" and "Joseph". This pair of mandrills had themselves been born at the Emperor Valley Zoo, Mary now 9 years old and Joseph reaching 10 years. They are also the parents of "Clara", well known for her appearances in the Zoo to You programme and Petting Zoo.
Zookeepers, excited over her birth which coincided with the impending retirement of the primate zookeeper, Harold Ramsamooj has since christened the new baby, "Harold". Birth weight was 2 lbs, 1 oz and length 40 cm.
Harold is progressing rather well despite having to overcome attempts by his mother to get rid of him.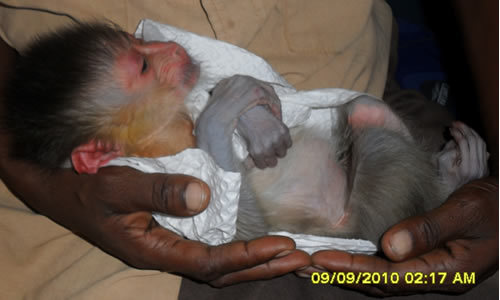 Fortunately, the zookeepers on that morning noticed the mother dragging her newborn like a rag doll. Knowing the history of this parent with her previous two births where she abandoned the offspring, the zookeepers immediately took steps to retrieve "Harold". This was successfully done and the baby is being looked after by the zookeepers. Primary care is being given by Christian Blake-Prescott, ably assisted by Subrat Rampaul, Nicole Roach and Faustin Ramkaransingh.
"Harold" is earmarked for a home at the Zoo's sister facility, the Brigand Hill Animal Rehabilitation Keep, where his enclosure will be a more natural setting.