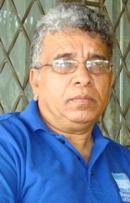 Narine Gupte Lutchmedial is the Company Manager / Director of Safeway Access and Support Systems Ltd. (SASSL) in El Socorro, San Juan. He has served at the helm of this scaffolding company since 1983 and today, he is a very successful entrepreneur. 
Mr. Lutchmedial is well-known for his accomplishments in the environmental sector, as founder and immediate past President of the Manatee Conservation Trust (MCT) and President of the Zoological Society of Trinidad and Tobago (ZSTT). The MCT is a Community Based Organization in the Manzanilla/Nariva Swamp where the main objective is protection of the flora and fauna in that area.
His tenure as President of the ZSTT started in 2002 and continues to present. In addition, he has served on the Cabinet-appointed Wildlife Conservation Committee and National Wetlands Committee and as a Director of the Environmental Management Authority. For his contribution to the protection of wildlilfe, he was the recipient of a National award, the Humming Bird Medal (Silver) in 2002.
He is also known for his community service as evident by his long standing membership since 1990 in the Rotary Club of San Juan, the National Council of Indian Culture since 1989 and in 2002 serving as President of the Trinidad and Tobago Ezee Riders Motorcycle Club. This Club is the driving force behind the special Christmas programme which touches the lives of over 20,000 children, distributing toys and treats. In 2009 he was awarded his fourth National Award, the Humming Bird Medal (Gold) for community service. The other two awards were to the organizations which he headed, the Manatee Conservation Trust and the Zoological Society of Trinidad and Tobago.
Currently, he is also involved in conservation efforts at the regional and international level serving as the regional representative for the International Fund for Animal Welfare (IFAW) and the president of the Caribbean Animal Welfare Association (CAWA), dedicated to promoting animal welfare, especially marine mammals and wild species in trade.