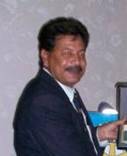 Sundar Seecharan is currently employed with the Ministry of Food Production, Land and Marine Affairs as an Agricultural Assistant III at St. George West, Curepe and performs duties involving: flood damage assessments, grow box demonstrations and plant disease diagnosis. Administrative duties include: preparation of work programs and financial estimates; supervision of field officers; completion of performance appraisal forms; preparation of monthly and annual reports; farmers' incentives, training & registration, group meetings and overseeing of administrative staff.
 Mr. Seecharan joined the public service in 1972 and has been serving as an employee with the Ministry of Food Production, Land and Marine Affairs for 37 years. He worked in local government from 1972-74 before receiving a scholarship to attend the Eastern Caribbean Institute of Agriculture and Forestry from 1974 – 76. He then worked in the Plant Pathology section of this Ministry until 1989. His position as an extension officer/AAII at St. George West, Curepe began in 1989 and continues today in the promoted position of AAIII.
In terms of community service, Mr. Seecharan has served on several boards, namely, the San Juan Rotary Club where he held the position of President during 1995-6 & 2009-10, the Aranguez Community Council (2003-2007), and the San Juan Laventille Civil Society Network (SALNET) (2007-10).  He is currently Treasurer of the Zoological Society of Trinidad & Tobago Inc (ZSTT) and President of the Horticultural Society of Trinidad & Tobago.
For relaxation Sundar plays cricket, travels, engages in Hindu temple worship and goes on 'river limes'.