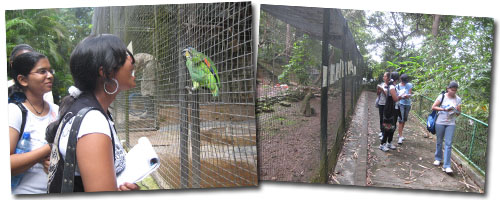 Ten Upper Six students of St. Joseph Convent, St. Joseph are voluntarily undergoing a Conservation Exercise at the Emperor Valley Zoo as 'Junior Zookeepers'. This exercise is a component of the zoo's Education Program and is geared towards educating young minds about animals and their natural behaviors as well as promoting environmental awareness.
The exercise, co-ordinated by Zoological Officer Sharleen Khan, gives the opportunity to the volunteers to work with and learn about reptiles, birds and mammals, three classes of vertebrates. The very enthusiastic 'Junior Zookeepers' have been given the chance to take part in zoo tours and even meet a number of the zookeeper including Delbert Charleau and Walter Bonyun. These zookeepers gave educational talks to the students in an effort to instill environmental awareness and importance. The 'Junior Zookeepers' even had a chance to touch and interact with one of the zoo's blue and gold macaws named 'Phoulorie', one the Petting Zoo's animals at the Emperor Valley Zoo.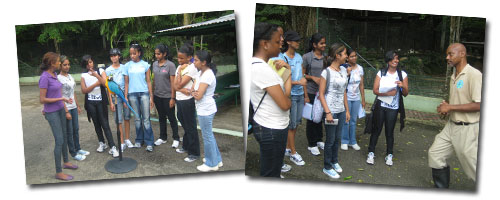 In the upcoming week, the students will be given the chance to learn about very interesting mammals such as ocelots, capybaras, agoutis, prehensile-tailed porcupines, an African lion, South American tapir and a giant otter. They would also have a unique opportunity to meet 'Harold', the zoo's adorable baby mandrill.
The collaboration between the Zoological Society of Trinidad and Tobago Inc. and St. Joseph Convent has been a success thus far in educating young persons about environmental conservation.