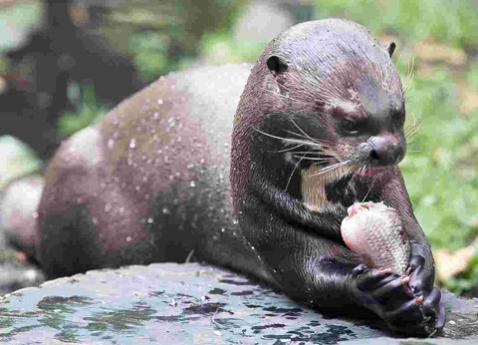 A RARE giant otter at New Forest Wildlife Park is to be sent to Trinidad to mate, in a move that's a first for the UK and for conservationists Carol and Roger Heap.
Giant otter Akuri has been selected by the international stud book keeper for giant otters to be sent to the Emperor Valley Zoo in Port of Spain to breed. He will be introduced to a specially-selected female, a wild rescue giant otter from Central America that was left at the zoo gates by illegal traders.
It is hoped the pair will breed and their young may become some of the first captive-bred otters to be reintroduced into the wilds of South America.
Content and Photo Taken from Salisbury Journal 
Here are some other Related Articles:
Salisbury Journal Article: 'Giant otter off to find mate'
BBC Video: 'Giant otter Akuri set to swap Hampshire for Trinidad'